Ability for admins to weigh requests
planned
Give the ability to weight requests (say impact & effort, or customizable). This will allow users to prioritize their list of requests. Bonus points for displaying it on a matrix.
marked this post as
planned
Merged in a post:
Custom fields for posts for admins
When discussing Canny with our devs, they point out, that they would like to store certain infos like
- Link(s) to github issues
- story points
- engineering work hours to deliver
- sales value
- Number of bugs / problems a feature solves (for us a new feature often replaces an older more error prone module)
- etc
with posts. Now I think this should be internal fields. It would be very similar to "Estimated dates for posts" but really generalized for any kind of custom field, not just dates (but keeping the internal/external tickmark). https://feedback.canny.io/feature-requests/p/estimated-dates-for-posts
I would expect this to behave pretty much the same way as segmentation for according to user attributes, but it would segment based on post attributes. In terms of interface, it would sit in the admin view on the left either in the segment part or as new part at the bottom (see attached mockup).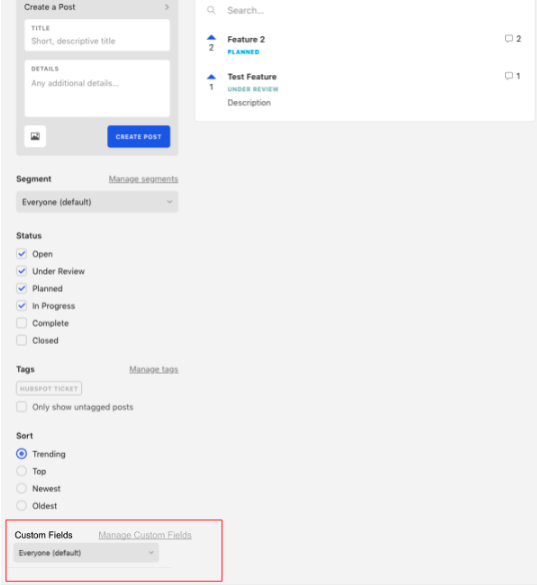 Merged in a post:
Priority voting
One of our customers has requested the ability to attach a priority to their votes, so that they can signal the difference between a "nice to have" vs "urgent" feature.
Merged in a post:
Enhancement weightings / dashboard
I'd like the ability to add custom weighting categories and scores in Admin View. Example below where four custom weighting categories have been added:
1) Dev Effort: Small (-5) Medium (-15) High (-30)
2) Increase Revenue: No (-5) Indirectly (5) Yes (15)
3) Strategic: Yes (20) No (0)
4) Retain customers: Yes (20) No (0)
This would allow one of our dev team to set 1) and one of our product managers to indicate 2)-4). Resulting in a total weighting being set which is relatively objective.
With this in place you could have a real time report / dashboard of which things look best to do based upon more than just votes/hunches.